Contact us


8 minute read
Product
---
Driving ancillary revenue through onboard services
How to unlock the full potential of inflight retail
The global aviation industry has long been able to boast 'we'll take you wherever you want, whenever you want'. Now, increasingly they are able to offer passengers more choice in the way they want to travel.
Empowered by analytics, the aviation business has become a global leader in customer service, offering passengers a previously unimaginable variety of options and, most significantly, allowing airlines to generate more income.
By recognising that all passengers are different and identifying those differing needs, airlines can now offer their customers more of what they want - and research shows passengers are prepared to pay for buy onboard (BoB), tailor-made travel.
Buy onboard first took off as a concept decades ago, as deregulation both in the States and Europe allowed carriers to compete on airfares, prompting them to begin charging extra sums for services that were previously covered in ticket prices.
Early last year British Airways teamed-up with the well-known UK-based Marks & Spencer brand to roll out buy onboard on short-haul flights. Reviewing the move in December 2017, BA Chief Executive Alex Cruz said they now offered "food you want when you are flying at a reasonable price" with "significantly higher" choice, adding that demand for the service had "completely surprised us."
He also went further, predicting that BA's competitors will follow where it broke ground. According to the FlightGlobal website, Cruz described the free food and drink services still available on board rivals' short-haul flights as a 'fad'.
"Every carrier in the world will be offering food to buy in the very short flights as we do," he forecasts.
Indeed, within days of Cruz's prediction, Abu Dhabi-based Etihad Airways announced that while continuing to offer complimentary meals in economy class, it too would add buy onboard drinks and snacks while the airline experiments with new products.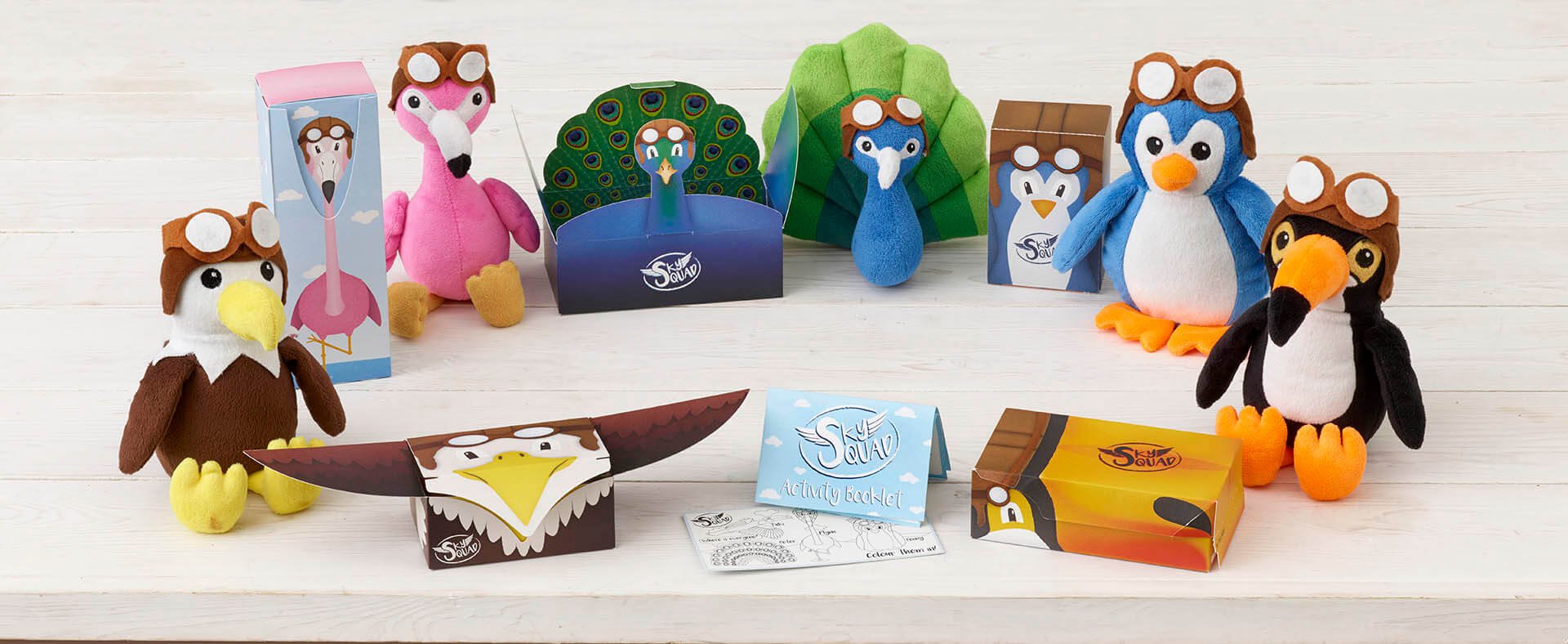 And there are compelling reasons behind the decisions by carriers to continue down the path to buy onboard.
In the last 20 years BoB has come a long way from simply offering customers a choice over whether they want to pay for additional cases. The decisions on offer to passengers now range from baggage-checking, pre-assigned seating, inflight retail, onboard duty free, hotel booking and car rental.
Service providers such as the Dubai-based dnata have developed as a result, to support carriers and their customers. In dnata's case, it provides services for 81 million passengers a year, has more than 38,000 employees, prepares and delivers 117 million meals into the sky every year and currently has 190 customer airlines. It has been named Ground Handler of the Year in 2014, 2015 and 2016.
"The evolution of buy onboard has certainly changed our business - particularly the skills we possess and where we invest our time and energy," says Robin Padgett, Divisional Senior Vice President at dnata's catering division.
"Like a retailer on the ground, we must constantly evolve what we can offer our customers and their customers and always be ahead of the game, from digital capability to product design."
Nowadays the correctly planned and executed introduction of BoB enhances customer service as passengers are offered the opportunity to get more of what they want from their carrier – paving the way for improved airline performance in the face of increased competition and falling airfares.
Figures compiled by Idea Works Company, an aviation consultancy, reveal that ancillary revenue in the nine years from 2007 to 2016 for the world's top 10 ancillary-revenue carriers, leapt from $2.1 billion to $28 billion.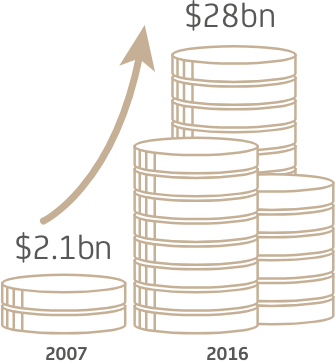 BoB is also carving out a bigger slice of the revenue pie. Research by Accenture, a professional services firm, and technology solutions provider Amadeus shows that between 2010 and 2016 revenue from ancillary options has almost doubled as a percentage of total airline income from 4.8% to 9.1%.
"While the additional revenue is critical, BoB is equally about offering passengers options we know they'll appreciate, positioning airlines as innovators through bespoke product and increasing the product choice for everyone, while driving pre-order with an eye to reducing waste," says Robin.
And this is in a field where demand is rising steadily – since 2004 passenger volume has more than doubled to some 4,081 million in 2017.
Providers power performance
Service providers, such as dnata, work with carriers to create and communicate the optimum mix of offers at the right price, at the right time – representing a key driver for airline revenues.
In terms of monetising opportunities, carriers are in an excellent position. They can:
American Airlines completed its roll-out of 'Basic Economy' fares, where fares cover the seat but little else to compete with ultra-low-cost carriers, such as Frontier and Spirit, in September 2017.
"Performance has been in line with expectations, with about 50% of customers who received a basic offer choosing to buy up to the main cabin product," American Airlines President Robert Isom told investors the following month, according to USA Today.
The CEO of United Airlines, Scott Kirby, has suggested that between 60 to 70 percent of his passengers spend more on their fare when offered the basic option.
While the benefits of buy onboard are obvious though, the road to success is not always smooth.
Successfully launching buy onboard requires a series of complex decisions to be taken over ancillary merchandising, based on customer preference, competitive intelligence and management's ability to push through previously unnecessary marketing activities.
Launching an ancillary programme represents a real opportunity – and a real challenge. Informed choices, with tactics supporting a coherent overall strategy, allow an airline to increase customer satisfaction, increase revenue, and increase their competitive position.
Pushing through change of this magnitude requires professional partners that can help build alignment and communicate the shift in service to both customers and crews. These partners will support BoB roll-outs with onboard logistics, product design, crew training, point of sale technology and digital merchandising.
Buy onboard is an industry-wide trend that properly managed with trusted partners builds customer satisfaction, boosts passenger loyalty and rewards carriers financially.
The key to achieving these goals is execution – and air services providers, such as dnata can make the difference over whether new offers take flight or head into a fog of confusion.
Over the next few weeks on dnata's Food for thought site we'll be exploring inflight retail in more detail. We'll cover how technology can maximise passenger value; best practice in developing the retail offer; managing the onboard retail supply chain; making the most of marketing – how to motivate crew and effectively engage passengers; why outsourcing onboard retail services makes sense; and look at outsourcing in action – we will hear how our customer airlines have benefitted and how we can help you achieve the full potential of your inflight offer. Subscribe to our updates so you don't miss out.
Did we whet your appetite for knowledge?
Let us know by endorsing this piece.
By clapping more or less, you can signal to us which stories stand out.
Contact us
Want to improve your retail offering? Fill in the form to schedule a consultation with our experts.