Contact us


3 minute read
Culinary
---
Bringing a restaurant mentality to airline catering
The first time I flew in business class was such a disappointment.
I remember thinking, 'what are people paying all that money for? Extra leg room?' The passengers around me boarded with airport sandwiches in hand… and I soon realised why. Where was the love, the passion, the 'care factor' in the food served? Certainly not in the tasteless fish fillet on the tray table in front of me.
So when a former colleague mentioned that dnata Singapore was seeking a new executive chef, I didn't exactly jump at the opportunity. I was working in premium event catering at the time, but had spent the previous 18 years leading Michelin-starred restaurants across Europe. They were incredibly challenging working environments; the hours were long, the pressure intense… but I loved it. There was so much pride, passion and innovation in those kitchens. How could airline catering possibly compare?
And yet the more I thought about it, the more I found myself drawn to the challenge. What if we could make plane food better?
One of the difficulties we face in our industry is that we are detached from the end customer. In a restaurant, you're responsible for cooking, plating and presenting each dish. Within seconds it arrives on the diner's table just metres away. You witness their reaction as they take their first bite. If what you've cooked isn't up to scratch, you know about it. Immediately.
Not so in airline catering. Naturally, this could cause some in inflight catering to feel less accountable.
So, with our team at dnata Singapore, we're combining my new-to-the-industry perspective with our considerable inflight experience to deliver a more creative and consistent end product. Just because we're mass producing food for hundreds of people at a time it doesn't mean there's any less room for error. The opportunity to stand out is considerable.
Lifting our game has required taking the team back to basics. Something as simple as blanching vegetables can spoil a dish if done incorrectly, which is why, I believe, chefs need to cut their teeth in restaurants before moving into our industry. The restaurant environment provides those critical skills - how to fillet a fish or pluck a bird. In inflight catering you'll never truly learn about seasonality of ingredients – it doesn't exist to the same degree because we fly ingredients in from around the world. You need to master those fundamentals and experience being part of a smaller business, where everyone is accountable for everything they do.
That's what excites me about what we're doing as a culinary leadership team at dnata: instilling that 'small team' mentality in this massive industry of ours.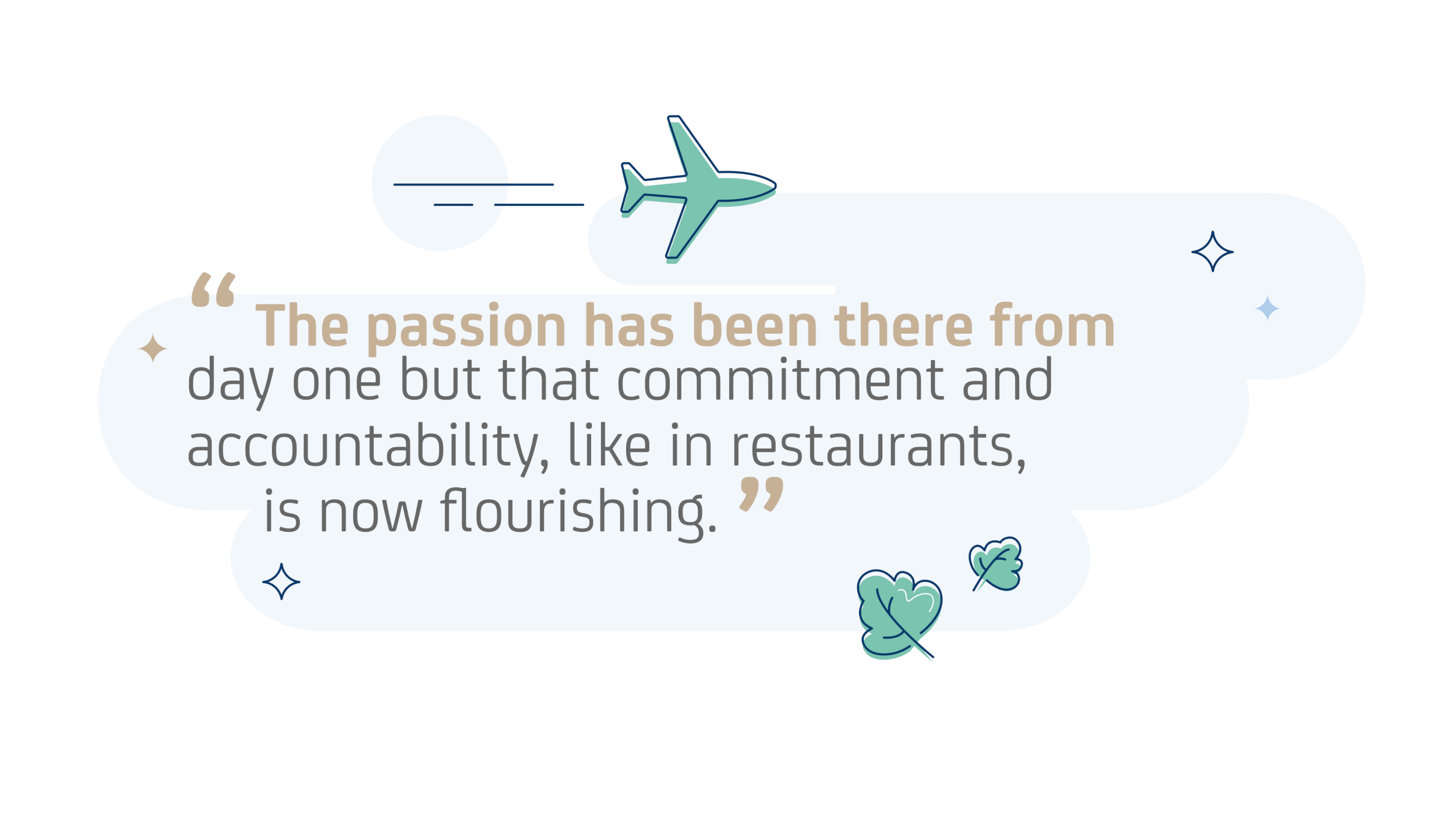 I walk into our kitchen now and I see a different working environment to the one I first joined. The passion has been there from day one but that commitment and accountability, like in restaurants, is now flourishing. Now, everything cooked must be tasted and approved by the chef in charge. Small errors are visible. We won't allow them. Our suppliers are on their toes too, because we're much pickier about what's delivered to us. Everyone is accountable.
The team is confident we can exceed our airlines' expectations and deliver on our promises to them. And, as we invest in new technology, giving us the freedom to cook at an even higher level, those promises are only going to get more and more interesting.
About Etienne Bruwer
Etienne Bruwer leads dnata's culinary team in Singapore. Prior to stepping into inflight catering, Etienne earned multiple Michelin stars working at restaurants throughout Europe, including Le Altier De Gout in France and Galvin at Windows in London. In the past, Etienne also established his own restaurant and bakery in Cape Town, where he was born and raised.
Did we whet your appetite for knowledge?
Let us know by endorsing this piece.
By clapping more or less, you can signal to us which stories stand out.
Contact us
Want to improve your retail offering? Fill in the form to schedule a consultation with our experts.

More than
190
airline customers